Click here to go straight to a PDF of the recipe or see below.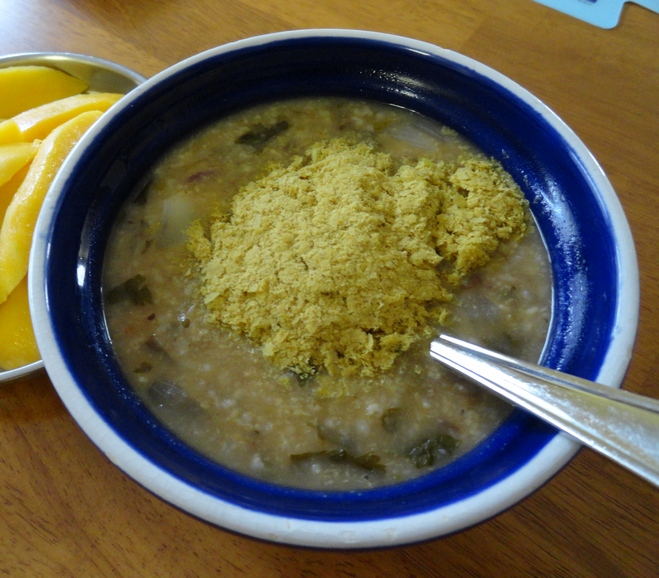 This post is primarily for those who, at some point in their lives have ventured into the world of Siddha Yoga and have had the good fortune of savoring the delicious breakfast cereal served at ashrams and centers.  It's also for those who'd like to try an amazingly healthy and healing breakfast cereal.
In 1981 I was living in the Siddha Yoga Ashram in Santa Monica on 3rd and Broadway. (It's now the Broadway Deli.) My ashram work, or seva, was as an assistant in the kitchen. We didn't know it, but Baba (Swami Muktananda), our teacher, would soon be leaving his body.  It was a remarkable time with meditation programs free to residents, Swamis Brahmananda and Janananda leading programs, and the ashram manager Kadar (now Swami Akhandananda) helping to train rookies like me.
Very early one morning Kadar showed me how to make sour cereal and immediately it became my task to make the morning cereal for the hungry residents. (It's now called savory cereal and has been for many years, but, on this issue, I'm stuck in the past. I still call it sour cereal.)
Fast forward to this morning. I hadn't made sour cereal in over a year and some unconscious memory seized my brain upon awaking. I checked the kitchen…everything was there! Wow! Yum! As I'm typing this I'm devouring my second bowl. This cereal is like medicine…I'm in love again!
A few years ago I made sour cereal for a special program and a woman practically begged me for the recipe, but I didn't have one that was similar to the one I made in the ashram. In honor of her, I had pen and paper on hand this morning. Below is the recipe I just made. This is just one of many variations of this fantastic tonic. This will make about 16 servings, which is perfect because sour cereal freezes very well.
Since originally writing this, I've made this recipe a few times and made some minor changes.  I must say, this is a great sour cereal recipe and I've tried to make it user friendly for the non-chef.
Click here for a PDF of the recipe.
What you will need:
Water (use purified if possible)
1 cup millet
½ cup basmati rice (choose any grain that you like i.e. quinoa)
¾ of a medium-large yellow onion chopped finely
2 tablespoons of unsalted butter
1 tablespoon of cumin seeds
2 pinches of fenugreek seeds
2/3 cup of dried unsweetened coconut (sometimes called coconut powder )(Can be purchased at an Indian Grocery store.) You can also use ½ of a fresh coconut if you have a strong blender (see below).
1 bunch of cilantro
2 medium size tomatoes, chopped into big pieces for the blender.
5 Medjool dates, pits removed and chopped into big pieces for the blender.
1 small to medium size jalapeño, stem removed and chopped into big pieces for the blender. (If you don't mind your cereal warmer, a larger jalapeño is fine.)
1/3 cup fresh ginger, chopped large (skin and all) for the blender.
A handful of oats (quick oats are fine)
2 ½ – 3 level teaspoons of salt (or to taste)
nutritional yeast flakes to taste
Remember, the feeling with which you cook is the main ingredient.
I do my chopping while cooking, but you can do yours ahead of time if you like.
Get two large pots (approx. 5 quarts or more). You can make sour cereal in one pot by starting with the sauté and then adding the water and grain, but using two pots is easy and quicker.
In one of the pots start 8 cups of water on a high heat and add your millet and rice or other grain. When the water boils, bring it down to a rolling boil stirring occasionally. Remember, throughout the preparation you can add water to get the consistency that you desire. I have noted where I usually add water, but this may change depending on the second grain used or the time and temperature of the cooking.
While the water is heating up and boiling, finely chop ¾ of the onion and set aside ½ the onion for use right now and a ¼ of the onion for use later.
In the second large pot, sauté the ½ an onion finely chopped in the butter on a low-medium flame. When the onions are soft, add the cumin and fenugreek and lightly toast the spices.
Now add the dried unsweetened coconut and very lightly toast the coconut stirring constantly. Turn off your sauté.
Fresh Coconut:
Only use fresh coconut if you have a strong blender. Turn off your sauté and grains as this may take a few minutes. Break the coconut open by tapping a hammer around the circumference. Make sure that you have a bowl underneath it to catch and save the coconut milk. Carefully remove the coconut meat from the shell. (Remember, you are only using ½ of the coconut.) If you have a stubborn coconut that will not easily come out of the shell, wrap it in an old clean towel and whack it hard on a concrete surface a few times to break it into smaller pieces. Then carefully slide a butter knife between the meat and the shell and rock the knife back and forth like turning a key. This should free the meat from the shell. Then chop the coconut meat into small pieces. Add the pieces to a blender and cover with water. Finely blend the coconut meat and add to the sauté cooking for a few minutes.
When your grains have been boiling for about ten minutes or more, carefully pour the boiling water with the grains into the large pot with the onions, spices, and coconut. If needed, rinse the grain pot making sure to don't leave any grains behind. Bring this mixture to a rolling boil. Stir thoroughly and regularly because if you don't it will stick to the bottom and burn.
While the mixture is enjoying a mellow boil and you are stirring it regularly, chop the bottoms off the cilantro (leaving half the stems) and submerge the whole bunch in cold water. I use the second grain pot for this purpose. If your cilantro is muddy or dirty you may have to soak it a few times until the water clears up. Leave the cilantro submerged and set aside.
Continue stirring the mixture while it is enjoying a mellow boil.
Get out the blender and make the masala. Add to the blender: tomatoes, dates, jalapeño, and ginger. Cover with 1 ½ cups of warm water and pulse at first, then blend on high for a least one minute or until the masala is well blended.
Add the masala and oats to the main mixture and stir in very well. (If you used fresh coconut, strain the coconut milk and add to the cereal) Add 3-4 cups of water.  As a matter of fact, add water at any time to get the consistency that you desire.
Add the salt to the sour cereal and stir in thoroughly.
Bring this to a boil. Remember to stir this thoroughly and regularly because if you don't it will stick to the bottom and burn. If the cereal begins to stick, scrape the sticking with your spoon and don't let it burn.
Once boiling, lower the heat to a strong simmer (occasional boil) for 25 minutes.  Adjust the heat as needed but keep the mixture at a strong simmer/mellow boil for 25 minutes.
While the cereal is cooking, take your cilantro out of the water, (rinse again if necessary), shake out the water and chop it finely.
After 25 minutes of a mellow boil/strong simmer and stirring regularly, turn off the heat, stir in the ¼ of an onion finely chopped and the chopped cilantro, and let the mixture sit for ten minutes (if you can resist).
Pour a bowl and top it liberally with nutritional yeast and enjoy!!!
Freeze what you don't use after two days and add water when reheating.
Before eating add SGMKJ. (This is an acronym of a prayer/salutation.)